Doileys are one of those things that are easy to pick up in an op shop (Sandlewood Op Shop is no exception!).
Many of them are handmade with love by previous generations and although some can be slightly imperfect, there are many uses for them that can still show off their true beauty and all the hard work someone has put into creating it.
Here are five ideas for ways to use Doileys...
Photo Courtesy of craftynest.com
Photo Courtesy of blog.craftzine.com
Photo courtesy of gizbabe.typepad.com
3. Make a Lampshade, Cover a Coathanger, or make a Dreamcatcher Yes, I know this is THREE, but think of it as 2 bonus ideas ;)
Photo Courtesy of

abeautifulmess.typepad.com
4. Create Dainty, Romantic Decor
Photo Courtesy of twinklemama.files.wordpress.com
Photo Courtesy of greenowlcrafts.blogspot.com.au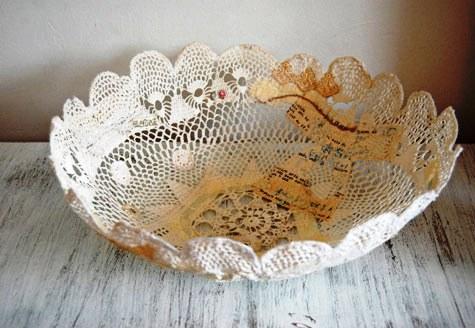 Photo Courtesy of needle-exchange.ca
5. Create funky jewellery and accessories
Photo Courtesy of sweetpaul.typepad.com
Photo Courtesy of

sincerelykinsey.blogspot.com
Photo Courtesy of craftster.org